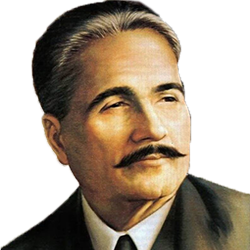 Allama Iqbal Poetry allows readers to express their inner feelings with the help of beautiful sher. Allama Iqbal poetry, shayari, Iqbal ki shayari, ghazal and Allama Iqbal quotes is popular among people who love to read good urdu poetry. You can read 2 and 4 lines Poetry and download Allama Iqbal poetry images can easily share it with your loved ones. Up till, several books have been written on Allama Iqbal sher. Urdu Ghazal readers have their own choice and here you can read poetry of allama iqbal in urdu for students & English from different categories.
Tu Shaheen Hai Parwaz Hai Kaam Tera
Tere Samne Aasman Aur Bhi Hain
•Real Name: Mohammad Iqbal
•Pen Name: "Iqbal"
•Born: 09 Nov 1877 - Sialkot, Punjab
•Died: 21 Apr 1938 - Lahore, Punjab
Muhammad Iqbal, also known as Allama Iqbal, is the national poet of Pakistan. A poet, lawyer philosopher, politician and scholar, Iqbal was born on 9 November 1877, in Punjab. In 9 November Iqbal Day is celebrated all over the world. He raised by Kashmiri parents and studied at the Scotch Mission College in Sialkot. Allama Iqbal received the title of "Sir" from King George V in 1922. In addition to being a poet of the East, Allama Iqbal has the status of "Musawir e Pakistan", "Hakeem-ul-Ummat" and "Mufakir-e-Pakistan". He became the national poet of Pakistan after independence. His popular creation "Sare Jahan Se Acha" became the national anthem of India.
Regarded as the spiritual father of Pakistan, Allama Iqbal possess prominent place in the Urdu poetry and literature. Allama Iqbal poetry, Ghazal, Nazm, Sufi Poetry and Islamic Poetry collections reveal his wisdom and intellectualism that had motivated the Muslims of India for struggle of freedom. Allama Iqbal shayari has been narrated in Urdu and Persian languages. Allama Iqbal Poetry in urdu for students has been highly motivating and interesting for the readers in Indo-Pak. Allama Iqbal poems in Urdu is highly inspiring that ignited the love of freedom among Muslims of India. He was the first person who invoked the philosophy of Pakistan in front of sub-continent Muslims through its Urdu poetry. Allama Iqbal Quotes & Shayari book, Asrar-e-Khudi, appeared in the Persian language in 1915, and other books of poetry include:
•Rumuz-i-Bekhudi,
•Payam-i-Mashriq,
•Zabur-i-Ajam.
Amongst these his best known Urdu works are:
•Bang-i-Dara,
•Bal-i-Jibril,
•Zarb-i Kalim,
•Armughan-e-Hijaz.
Allama Iqbal Ghazal collection include:
•Har Ek Maqam Se Aage Guzar Gaya Mah e Nau
•Tu Shaheen Hai Basera Kar Paharon Ki Chatanon Par
•Har Shay Musafir Har Cheez Rahi
•Tu Shaheen Hai Parwaz Hai Kaam Tera
•Sitaron Se Aage Jahan Aur Bhi Hain to name a few.