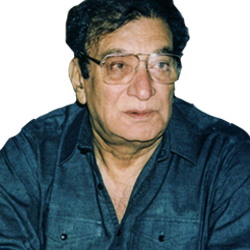 Ahmad Faraz is one of the famous Urdu poet in Pakistan and all over the World. Ahmad Faraz poetry express the feeling of common man, his poetry (shayari) is very easy to understand as he wrote several book based on ghazal and nazm. Now a day Ahmed Faraz poetry is very popular in socail media with sad poetry status. Download or easily share Ahmad Faraz best poetry in Urdu 2 lines, Hindi and English on whatsapp status, facebook and instagram with your loved ones.
Ahmad Faraz Poetry - Urdu poet, Ahmad Faraz personal one of his life moments of his childhood led him step into the world of poetry. Most of people compared his shayari with Faiz Ahmad Faiz as he holds unique value among all famous poets currently in Pakistan or in Asia. He is famous because of his simple way of writing style that will understand and read by most of people. Faraz poetry has Romance, resistance nature. He was a poet, lecturer, writer and social activist.
Ahmad Faraz was born on January 12, 1931 in Kohat, Pakistan, He was an Urdu poet. Ahmad Faraz Sher in urdu is very admirable. He considered as one of the enormous modern Urdu poets of this era. 'Faraz' is his pen name (Takhalus) in Urdu.
Ahmad Faraz left this immortal world on August 25in Islamabad, 2008. Ahmad Faraz holds a distinctive position as one of the finest poets of recent times, with a fine but simple way of writing. Even general people can easily know his poetry. Ethnically a Hindkowan, Ahmed Faraz studied Persian and Urdu from Peshawar University. He later became lecturer at the Peshawar University. He was awarded by different titles Hilal-e-Imtiaz, Sitara-i-Imtiaz and after his death Hilal-e-Pakistan by the government.
Initially he wanted to join the Pakistan Air Force, later he switch towards poetry as he was a born poet with excellent expressing skill of his feelings through word. He was a modern poet who contributed a new trend to the Urdu poetry. Faraz knew how one's emotions can enhance and expressed by his poetry. He wrote poetries which are true expression of romanticism, love and pain and even expressed his feelings about the laws and politics. He was even jailed for criticizing the military rule in a mushaira. His poem 'Mat Qatal Karo Awazon ko' was also a masterpiece of his work. His first collection of poems, "TanhaTanha" published in 1958. , "Dard Ashoob" made him well recognized to those who were working for a liberal socio-economic system which published in 1966.
Ahmed Faraz Famous Proses:
Here are the famous proses of Ahmed Faraz:
Ab Us Ke Shehar Mein Thahre Ke Kooch Kar Jaaye
'Faraz' Aao Sitare Safar Ke Dekhte Hain
(This prose is taken from the poem Suna Hai Log Use Aankh Bhar Ke Dekhte Hain)
Ab Tak Dil E Khush Fehm Ko Hain Tujh Se Umidain
Ye Akhri Shammain Bhi Bhujanay K Liay Aa
(This prose is taken from the poem Ranjish Hi Sahi Dil Hi Dukhane Ke Liye Aa)
Hosh Aaya To Sabhi Khwab The Reza Reza
Jaise Urtay Huye Auraq-e-Pareshan Janan
(This prose is taken from the poem Ab Ke Tajdeed-e-Wafa Ka Nahi Imkan Janan)
Which are the famous poetry by Ahmed Faraz?
Names of some famous poetries by Ahmed Faraz are mentioned below:
• Dosti Ka Haath
• Hamdard
• Eid-Card
• Zer-e-Lab
• Sawal
• Takhleeq
• Tasalsul
• Kaneez
• Sarhaden
Read Ahmed Faraz poetry in 2 lines here. Ahmad Faraz Sher, ghazal, nazm, lyrics, and other poetry collections are available in Urdu, Hindi and English languages. The Shayari is also classified into different categories such as Sad, Love and Attitude. Poetry of other famous poets such as Anwar Masood, Parveen Shakir, Amjad Islam Amjad and others.