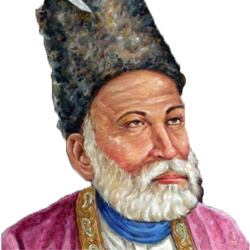 Ghalib Poetry allows readers to express their inner feelings with the help of beautiful poetry. Mirza Ghalib poetry, shayari & Ghazal is popular among people who love to read good poems. You can read 2 and 4 lines Poetry and download Mirza Ghalib poetry images can easily share it with your loved ones including your friends and family members. Up till, several books have been written on Mirza Ghalib sad poetry. Urdu Ghazal readers have their own choice or preference and here you can read Mirza Ghalib poetry in Urdu & English from different categories.
Mirza Ghalib Poetry - Mirza Asadullah Khan Ghalib was a famous Urdu and Persian poet whose thoughtful words continue to impress readers all over the world. Ghalib has written for every mood, every occasion and every person and that is why he is one of the most influential poets of Urdu. Readers of every age reflect their own feelings and desires in Ghalib's verse and the poet does not disappoint them, because he has recorded thousands of such emotional verses. Ghalib's ghazals have a deep structure and the subtle nuances of universal themes such as love, loss, betrayal and Sufi mysticism are presented with great care. Its verses lend themselves to an abundance of meaning. As long as love, a divine emotion, prevails in human life, Mirza Ghalib' s poetry will be remembered. His poetry cannot be limited to any particular age or language or geographical boundaries.
Mirza Asadullah Baig Khan, better known by his pen name Ghalib and Asad, was born on December 27, 1797. Mirza Ghalib Ghazals have been widely copied at literary festivals and events. His personality was so strong that many films have been written about his character. As a member of the Mughal Empire and the old landed aristocracy, he did not work for the Mughal emperors. He himself remarked during his lifetime that he would be recognized by later generations.
Mirza Ghalib Famous Proses
Here are the famous Proses of Mirza Ghalib
Dil-E-NadanTujhe Hua Kya Hai
Akhir Is Dard Ki Dava Kya Hai
(Meaning: O innocent heart, what happened to you, what is the cure for this pain, after all?)
Bazicha-E-Atfal Hai Duniya Mire Aage
Hota Hai Shab-O-Roz Tamasha Mire Aage
(Meaning: World is a child's playground for me, a spectacle unfolds day and night before me)
Koi Ummid Bar Nahin Aati
Koi Surat Nazar Nahin Aati
(Meaning: O innocent heart, what happened to you, what is the cure for this pain, after all?)
The legendary Mirza Asadullah Khan Ghalib is one of the recognized and popular poets of medieval era of India. Mirza Ghalib is distinguished as the last great poet of the Mughal era who wrote several ghazals, poetry and shayari that reflected the political, social problems and issues of that time. Mughal emperor Bahadur Shah Zafar gave him the title of "Dabirul Mulk" and "Najamud Daula" for his literary work in Urdu and Persian language. His work has been interpreted and sung by many people in various ways. In modern times, Ghalib is remembered in India, Pakistan, and other parts of world who understands Urdu for his melodious and romantic poetry.
The collection of Mirza Ghalib poetry is classified as "Dewan –e-Ghalib". The Persian collection of Mirza Ghalib titled as "Kuliyat-e-Ghalib Farsi" is popular not only in Pakistan but also in Iran. Read all collection of poetry, Ghazal, Nazm, Sad Shayari, Quotes of Mirza Ghalib in Urdu, Hindi & English languages on Hamariweb.com and most of the poetry and ghazals of Mirza Ghalib is sung in various Bollywood movies. The Shayari is also classified into different categories such as Sad Poetry, Love Poetry, and Attitude Shayari.