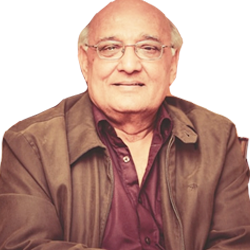 Amjad Islam Amjad Poetry, Shayari & Ghazal Poetry allows readers to express their inner feelings with the help of beautiful poetry. Amjad Islam Amjad Poetry, Shayari & Ghazal shayari and ghazals is popular among people who love to read good poems. You can read 2 and 4 lines Poetry and download Amjad Islam Amjad Poetry, Shayari & Ghazal poetry images can easily share it with your loved ones including your friends and family members. Up till, several books have been written on Amjad Islam Amjad Poetry, Shayari & Ghazal Shayari. Urdu Ghazal readers have their own choice or preference and here you can read Amjad Islam Amjad Poetry, Shayari & Ghazal poetry in Urdu & English from different categories.
Urdu poet, playwright Amjad Islam Amjad was born on August 4, 1944 in Sialkot (Pakistan). He completed his primary education in Lahore, graduated from Islamia College Lahore and did his Masters in Urdu Literature from Punjab University. Amjad Islam Amjad was born in Lahore, Punjab. However, his family was from Sialkot.
When it comes to education, he completed his secondary education in Lahore. However, he is a graduate of Government Islamia College Civil Lines, Lahore. He was also a member of the college cricket team and was active in sports activities. He also has a master's degree in Urdu literature from Punjab University. He began his career as a lecturer in government. He also served as the Director of MAA College Lahore and PTV from 1975 to 1979.
Some people do not need introduction as their name is itself a description of their work recognition. Amjad Islam Amjad is one of those lucky people. He is a famous and well-recognized Pakistani Poet and Drama Writer, who has been received several awards and recognition such as Pride of Performance and Sitara-e-Imtiaz in the appreciation of his work in the field of Dramatic and Poetic work for Television. Amjad Islam Amjad Poetry is a creative canvas, which is not limited to the subject of love for people or sophisticated beauty, but also explores love for God, humanity and natural phenomena.
Along with poetry and prose, Amjad Islam Amjad is the writer of numerous drama series for PTV including Waris, which is considered one of the classic dramas of Pakistan. In June 2008, he joined Urdu newspaper Daily Express and writes columns with the title of ""Chasham-e-Tamasha"". He has written many columns, translation, criticism and essays, but his main focus continued writing Urdu Nazms. He always considered Urdu Poetry his first love.
Amjad Islam Amjad Famous Proses
Kahan Aa K Rukne Thy Rastay Kahan Morr Tha Usay Bhool Ja
Wo Jo Mil Gaya Usay Yaad Rakh Jo Nahi Mila Usay Bhool ja

Un Jheel Se Gehri Ankhon Me
Ik Shaam Kbhi Abaad To Ho

Mujhe Khud Se Hain Shikaytain, Mujhe Zindagi Se Gilaa Nahi
Ke Jo Chaha Mene Woh Paa Liya, Nahin Aesa Kuch Jo Mila Nahi
Amjad Islam Amjad Famous Poetry Collection
Amjad Islam Amjad has several books of Poetry & Prose on his name includes
• Fishar
• Barzakh
• Us Par
• Satwan Dar
• Zara Phir Se Kehna
• Baarish Ki Awaz
• Sahilon Ki Hawa
Amjad Islam Amjad shayari in urdu is very famous in Pakistan and around the world. If you are searching for the entire Amjad Islam Amjad Poetry collection then you can read all the latest Ali Amjad Islam Amjad poetry, Ghazal, Nazm in Urdu, Hindi & English here.