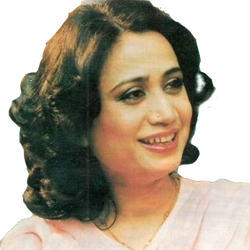 Parveen Shakir poetry allows readers to express their inner feelings with the help of beautiful poetry. Best Parveen Shakir poetry, shayari and ghazal is popular among people who love to read good poems. You can read 2 lines Poetry quotes and download Parveen Shakir poetry images can easily share it with your loved ones including your friends and family members. Up till, several books have been written on Parveen Shakir Shayari. Urdu Ghazal readers have their own choice or preference and here you can read Parveen Shakir poetry in Urdu & English from different categories.
Parveen Shakir Poetry – One of the legendary female Urdu poet who started doing Poetry in early childhood, none other than Parveen Shakir. Her famous book "Khushboo" earned immense recognition and popularity worldwide. Analyzing her work, Parveen Shakir Romantic Poetry and Sad Poetry comprises of emotions. Parveen Shakir is one of the most famous female Urdu poetess of all time. Her fantasy and romantic style of lyrics makes her work worth reading again and again. Read the latest collection of Parveen Shakir Shayari in Urdu and English languages. Parveen Shakir was born on November 24, 1952; she worked as a civil servant for the Government of Pakistan & also writes poetry. Afterwards she has subsequently written other volumes including Sad-barg, Khud Kalami, Inkar & Kaf e Aina. Parveen Shakir was awarded by one of Pakistan's biggest honors, the Pride of Performance for her excellent contribution to Urdu poetry. Parveen Shakir died on December 26, 1994 in fatal car accident.
In both India and Pakistan, Parveen Shakir is renowned as a literary voice who brought in the voice of female narrators and experiences in a landscape dominated by men. Writing from the perspective of a young woman, Parveen Shakir broke the masculine shield of his time as the first poet to use the Urdu word larki (girl) in his work, portraying the condition of women emotionally and realistically. She violated the tradition while expressing. Her Urdu couple was considered popular in the 1970s, and all their poetry collections were immediately criticized. Her poetry also rewarded with an experimental style of free verse that brings to English words that are commonly used by Urdu speakers in the realm of poetry. This style, although very successful in capturing an enthusiastic young audience, was not taken as a representative of the form of Urdu poetry, and is considered more controversial by fans of Urdu literature.
You can find some of the finest collection of Parveen Shakir poetry, Parveen Shakir ghazals, Parveen Shakir Shayari, Parveen Shakir Romantic Poetry and Parveen Shakir Nazm online on HamariWeb. You can read, submit your own collection of Parveen Shakir, or dedicate Parveen Shakir famous poetry, qoutes, ghazals, and Shayari online to your loved ones. HamariWeb gives you an opportunity to pay tribute by sharing some of the finest poetry collection of Parveen Shakir online. On the other side, The Shayari is also classified into different categories such as Sad, Love, and Attitude. Keep visiting HamariWeb for all the latest updated collection of Parveen Shakir famous poetry, Ghazals, and Shayari.