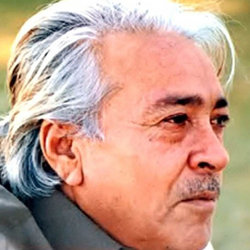 Munir Niazi Poetry, Shayari & Ghazals Poetry allows readers to express their inner feelings with the help of beautiful poetry. Munir Niazi Poetry, Shayari & Ghazals shayari and ghazals is popular among people who love to read good poems. You can read 2 and 4 lines Poetry and download Munir Niazi Poetry, Shayari & Ghazals poetry images can easily share it with your loved ones including your friends and family members. Up till, several books have been written on Munir Niazi Poetry, Shayari & Ghazals Shayari. Urdu Ghazal readers have their own choice or preference and here you can read Munir Niazi Poetry, Shayari & Ghazals poetry in Urdu & English from different categories.
Munir Niazi Poetry - Read the latest and best collection of one of the top Urdu poet of the modern era, Munir Niazi Poetry in Urdu and English. Munir Ahmed known as Munir Niazi was one of the famous poets and song writer of Pakistan. Niazi was born in Khanpur at 9 April 1928 Punjab, India. He had Punjabi background and belongs to well-known Niazi tribe therefore most of his poetry also pondered the culture of Punjab well. He earned an intermediate degree from S.E Collage, Bahawalpur and a B.A. from Dayal Singh College, Lahore. Munir Niazi Poetry main attribute was that he was a maestro of narration, words, and championed in the art of imagistic poetry. He was notable for telling his mini stories in expression of poetry that can find in his poetic work. One of the memorable songs of Munir Niazi Shahab was "Jis Nay Meray Dil Ko Dard Diya" from urdu film Susraal (1950). He developed a unique and colorful style in his Urdu and Punjabi poetry. His poems describe a world of vast landscapes and magical realism.
You can find largest collection of Munir Niazi Poetry on HamariWeb.com. You are most welcome to express or post your feeling on our website and even you can share your favorite Poetry, Ghazals and Shayari of Munir Niazi with your family and friends. Hamariweb.com provides best collection of Munir Niazi Poetry and encourages you to leave your reviews and feedbacks and get an instant reply.