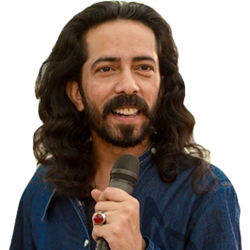 Ali Zaryoun Poetry allows readers to express their inner feelings with the help of beautiful poetry. Ali Zaryoun shayari and ghazals is popular among people who love to read good poems. You can read 2 and 4 lines Poetry and download Ali Zaryoun poetry images can easily share it with your loved ones including your friends and family members. Up till, several books have been written on Ali Zaryoun Shayari. Urdu Ghazal readers have their own choice or preference and here you can read Ali Zaryoun poetry in Urdu & English from different categories.
Ali Zaryoun poetry – The name of Ali Zaryoun does not need any introduction. He is not just a multi-lingual poet but also a thinker and lyricist. He is such versatile written poetry in different languages including Urdu, Persian, English, Hindi, and Punjabi. However, Ali Zaryoun poetry in Urdu is based on a huge variety of poems. His ghazals and several couplets are receiving a lot of praise. Ali Zaryoun father name is Jaun Elia, he learned to read and write poetry from his father Jaun Elia. If you want to read John Elia poetry, click on this link Jaun Elia Poetry.
He is among the popular poets of the modern generation and has gained millions of followers on social media or otherwise. Ali Zaryoun has performed in numerous institutions, mushairas, and events since 1999 in Pakistan and won several awards as well as the hearts.
Ali Zaryoun shayari has a bold and distinctive narrative. He utilizes his poetry as an effective medium to challenge stereotypes present in society and offers a true sense of realization to readers. His poetry promotes respect, tolerance, love, and harmony in society via his writings. On the other side, Ali Zaryoun sad poetry also attracts a large number of readers. He also operates a publishing initiative with the name Maktaba Zaryoun. He has set a benchmark for emerging poets in a similar style as his Poetry, be it Ali Zaryoun Sad poetry, Ali Zaryoun Romantic poetry even Ali Zaryoun Punjabi poetry has taken the hearts of poetry lovers. He also has a separate fan base for Ali Zaryoun shayari in Urdu especially the following poetry.
Ali Zaryoun Famous Proses
Baat Bhi Kijiye Dekh Bhi Lijiye
Dekh Bhi Lijiye Baat Bhi Kijiye

Asr Ke Waqt Mere Paas Na Baith
Mujh Pe Ik Sanvli Ka Saaya Hai

Which are the famous poetries by Ali Zaryoun?
Names of some famous poetries by Ali Zaryoun are mentioned below:
• Man jis ka maula hota hai
• Khwab ka Khwab haqiqat ki haqiqat samjhen
• Ek hijrat ki aawazon ka
• Tum sarwat ko padhti ho
Ali Zaryoun shayari in urdu is very famous in Pakistan and around the world. If you are searching for the entire Ali Zaryoun poetry collection then you can read all the latest Ali Zaryoun poetry in Urdu here.