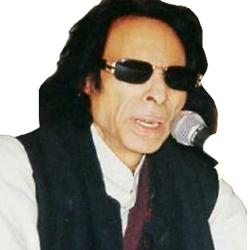 Jaun Elia is one of the famous Urdu poet in Pakistan and all over the World. John Elia poetry express the feeling of common man, his poetry "shayari" is very easy to understand as he wrote several book based on ghazal and nazm. Now a day John Elia is very popular in socail media on sad poetry status. Download or easily share John Elia poetry in Urdu 2 lines, Hindi and English on whatsapp status, facebook and instagram with your loved ones.
Main Bhi Bohat Ajeeb Hoon Itna Ajeeb Hun
Khud Ko Tabah Kar Liya Aur Malal Bhi Nahi
•Real Name: Syed Hussain Jaun Asghar
•Pen Name: Jaun
•Born: 14 Dec 1931 - Amroha, Uttar pradesh
•Died: 08 Nov 2002 - Karachi, Sindh
John Elia poetry does not need any introduction. The literature seems incomplete without the John Elia Shayari in Urdu. He was born in 1931 in Amroha, India, and breathed his last in Karachi in the year 2002. He is still has a large fan following as Jaun Elia quotes are popular among his fans. A large number of people love to read the Jaun Elia Shayari in Urdu. He wrote several poems but the John Elia sad poetry including Jaun Elia Ghazal and Jaun Elia Nazm are highly popular among readers. Here you can view the complete Jaun Elia poetry collection including the Jaun Elia 2 line Shayari.
John Elia Famous Proses
Kitni Dilkash Ho Tum, Kitna Dil Jo Hoon Main
Kya Sitam Hai Ke Hum Log Mar Jayenge

Mustakil Bolta Hi Rehta Hoon Main
Kitna Khamosh Hoon Main Andar Se

Jo Guzari Na Ja saki Hum Se
Hum Ne Wo Zindagi Guzari Hai
Which are the famous Jaun Elia Ghazals?
Names of some famous Ghazals by Jaun Elia are mentioned below:
• Us ke Pehlu Se Lag Kar Chalte Hain
• Theek Hai Khud Ko Hum Badalte Hain
• Umr Guzregi Imtihan Mein Kya
• Apne Sab Yar Kaam Kar Rahe Hain
Which are the famous John Elia Nazms?
Names of some famous Nazms by Jaun Elia are mentioned below:
• Aadmi Waqt Par Gaya Hoga
• Tum Jab Aaogi To Khoya Hua Paogi Mujhe
• Main Shayad Tumko Yaksar Bhulne Wala Hun
• Dhund Chhai Hui Hai Jhilon Par

Which are the famous Jaun Elia Shayari in Urdu books?
Names of some famous books by John Elia are mentioned below:
• Farmood (2008)
• Goyaa (2008)
• Lekin (2006)
• Gumaan (2004)
• Yaani (2003)
• Saayed (1991)