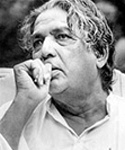 Kaifi Azmi Poetry allows readers to express their inner feelings with the help of beautiful poetry. Kaifi Azmi shayari and ghazals is popular among people who love to read good poems. You can read 2 and 4 lines Poetry and download Kaifi Azmi poetry images can easily share it with your loved ones including your friends and family members. Up till, several books have been written on Kaifi Azmi Shayari. Urdu Ghazal readers have their own choice or preference and here you can read Kaifi Azmi poetry in Urdu & English from different categories.
Kaifi Azmi Poetry - Kaifi Azmi is a poet who is still remembered for his beautifully written poetry as well as his remarkable services to brought Urdu literature to Indian motion pictures. He was born at Azamgarh District, Uttar Pradesh. He was a born poet and wrote his first poetry at the age of eleven years. Not only poetry but his leadership qualities also made him noticeable at that time. He was the member of Communist Party of India and afterward became the member of Progressive Writers Movement. In beginning of his career be was more focused toward the romantic poetry, songs full of love, sadness, grief and much more gestures but after the membership of Progressive Writer Movement he shifted his focus toward the path of socially conscious poetry. His first collection of poems, 'Jhankar' was published in 1943. He has worked as a lyricist, writer, and actor as well and he will always be remembered for Kaagaz Ke Phool (1959), Haqeeqat (1964), Heer Raanjha (1970). He received Padma Shri, (India's fourth-highest civilian) award, the Uttar Pradesh Urdu Academy Award and the Sahitya Akademi Award for Urdu for his collection Awaara Sajde, Special Award of Maharashtra Urdu Academy, Soviet Land Nehru Award, Lotus Award from the Afro-Asian Writers' Association, and President's Award for national integration. He was also pleased with the prestigious Sahitya Akademi Fellowship for lifetime achievement.
Kaifi Azmi Famous Proses:
Here are the famous proses of Kaifi Azmi:

Dil Ki Naazuk Ragen Tooti Hain
Yaad Itna Bhi Koi Naa Aye
(This prose is taken from the poem Aaj Socha To Ansu Bhar Aye)

Mera Bachpan Bhi Saath Le Aaya
Gaaon Se Jab Bhi Aa Gaya Koi
(This prose is taken from the poem Haath Aa Kar Laga Gaya Koi)

Guzarne Ko To Hazaron He Qafle Guzre
Zameen Pe Naqsh-e-Qadam Bas Kisi Kisi Ka Raha
(This prose is taken from the poem Jo Wo Mere Na Rahe Main Bhi Kb Kisi Ka Raha)
Which are the famous poetries by Kaifi Azmi?
Names of some famous poetries by Kaifi Azmi are mentioned below:
• Aurat
• Makaan
• Daaera
• Sanp
• Aadat
• Tasawwur
• Nazrana
• Ek Lamha
• Taj Mahal
Kaifi Azmi died on May 10, 2002, Mumbai, India. Find the latest collection of Kaifi Azmi poetry here. Kaifi Azmi Shayari is easy to understand by readers, you can find the best collection of Kaifi Azmi Poetry, Ghazal, Shayari, Songs, Nazm, and Poems on this page in urdu, hindi & English language. HamariWeb gives you an opportunity to pay tribute by sharing some of the finest collection of Kaifi Azmi Shayari online.