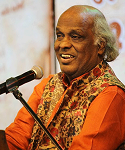 Rahat Indori Poetry, shayari & Ghazals Poetry allows readers to express their inner feelings with the help of beautiful poetry. Rahat Indori Poetry, shayari & Ghazals shayari and ghazals is popular among people who love to read good poems. You can read 2 and 4 lines Poetry and download Rahat Indori Poetry, shayari & Ghazals poetry images can easily share it with your loved ones including your friends and family members. Up till, several books have been written on Rahat Indori Poetry, shayari & Ghazals Shayari. Urdu Ghazal readers have their own choice or preference and here you can read Rahat Indori Poetry, shayari & Ghazals poetry in Urdu & English from different categories.
Rahat Indori Poetry - The graph of Dr. Rahat Andori's career usually has a hard time Tinsel Town element in it. A painter became a professor, a poet and then a Hindi film lyricist. Rahat was an expert in Urdu literature at the Indoor University before its flame could be seen by Mumbai's film industry and Urdu poetry listeners around the world.
He was born in 1950 in Indore and did his basic education from there. Rahat Andori is an amazing contemporary poet who writes poetry in Urdu and Hindi. The way his verses and poetry are presented is surprisingly unconventional, very different and very challenging. Readers around the world have been impressed by his poetic prowess. While his most humorous and satirical style of reciting poetry cannot end without the audience, the audience praised him.
Rahat Indori Shayari is best appreciated for its natural flaunt and sarcastically thrilling approach. He was awarded Phd in Urdu Literature for his thesis work titled as "Urdu Main Mushaira" . His daring speech capability adorned by the poetic sense is always flawless and exemplary. Recently amidst tension between India and Pakistan, his words challenged the air in a breathtaking way, saying;
Maseeha dard ke humdard ho jaayein to kya hoga
Rawaadaari ke jazbe sard ho jaayein to kya hoga
Ye jo laakhon-croron paanch waqton ke namaazi hain
Agar sachmuch mein dehshatgard ho jaayein to kya hoga?
The brilliant and match less Rahat Indori's poetry remind us of the great Jaun Elia who did not only break rules but adjusted poetry to a complete new direction of dream. Rahat Indori has been performing in Mushaira and Kavi Sammelan since last 40 - 45 years, always appearing with a jaw-dropping, intellect-pleasing and challenging aura in dynamic poetry collection. He has been a dedicated lyricist in Bollywood songs for a long time and is fond of composing on romanticism as well.
Rahat Indori Shayari has been translated in Urdu, Hindi and English languages while being tremendously lionized and cherished by several South Asian countries especially by Nepal and Bangladesh. Specks of wisdom are found in between his lines.
Says he,
Aankh Mein Pani Rakho Honton Pe Changari Rakho
Zinda Rehna Hai Tu Tarkeeben Bohat Sari Rakhu!
And
Dosti Jab Kisi Se Ki Jaye
Dushmano Ki Bhi Raaye Li Jaye.
Rahat Indori Shayari is outstanding as you have seen. He is not among the Dervishy or defeated-in-love poets but when Indori speaks, there is stillness that befalls on every single thing.